We can't all play as well as the pros, but copy their look and you're half way there. Get ready for summer league – in this Adidas Tennis Gear, you're bound to wow your opponent before you even start!

Adidas Tennis Gear
Did you watch The Australian Open? Adidas had lots of sunny bright colours for the sunny climes down under. The blue and orange colours of the adidas Melbourne Line were a great match for the blue tennis courts the players were battling it out on.
Players including Angelique Kerber, Dominic Thiem and Sascha Zverev were equipped with brand new Melbourne and Barricade performance wear, designed to maximise performance at the first Grand Slam of 2017.
The super lightweight collection is built to keep athletes cool in the Australian sun. ClimaLite materials encourage quick evaporation of sweat, and Climacool technology enhances the body's ability to regulate its temperature in the heat of summer.
Adidas Tennis Gear for Women
Angelique Kerber, who unfortunately didn't defend her title at The Australian Open this year is seen here wearing the adidas Melbourne Tank and the adidas Melbourne Skort. The Melbourne Tank is a feminine, lightweight sheer double-layer woven body fabric for staying light and cool. It comes with an adjustable inner bra for extra support. You'll look and feel good on court in this tank! The Melbourne Skort is a slim fit, stretchy tennis skort with shorts inside – a perfect fabric for freedom of movement on court. The side-slit adds to the feminine look. We are also stocking the Melbourne Line Skirt Legging and the Melbourne Line Tee.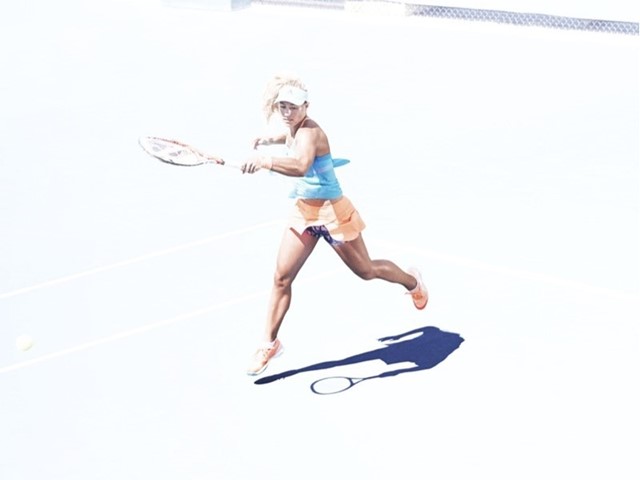 There's a fantastic dress that would look amazing if you have just come back from a holiday in the sun. Or we can always hope the sun shines in Ireland this summer! Pretty orange straps at the back make it exceptionally feminine and functional too, as the strappy design and slit on the side will let you move with ease. There's also a built-in bra with removable moulded cups for support. Layered mesh for the skirt keeps it extra light and breathable. It also features print insets at the sides and a heat transfer adidas logo at left chest. This dress comes with a coordinating print compression short. 31″ from shoulder to hem (size S). 3.25″ inseam. This adidas tennis dress will arrive later in the Spring.
Adidas Tennis for Men
At The Sports Room, we are stocking the primarily white elements of the Melbourne Range for men. Lightweight and stretchy so you can move freely, this tee offers UV protection. A slightly longer length in the back adds coverage as you serve up aces. Dominic Thiem models the Melbourne Line Tee and Melbourne Line shorts here. We're also stocking the Adidas Barricade 2017 tennis runner. Warm up for you game in the Samba Hoody and Melbourne Line Pant.
According to Lotta Jurica Design Director at adidas Tennis, "The conditions of an Australian summer can present a serious barrier to the players performing their best, so we have designed the collection to combat this. The lightweight designs and cooling fabrics will help them keep arrayed with patterns inspired by the local environment, layers symbolizing depth of the ocean and sky combined with sun bleached print, will enable the athletes to deliver stand-out performances whenever they step out on to the court." Ok, I know we don't have these heat problems in Ireland, buy hey, we can look good on court anyway! And who knows, maybe they'll inspire us to play a little better too. Roll on summer league…
The Sports Room, Wicklow Town, stockists of adidas tennis – take a look online for more gear